This post may contain affiliate links. Please read our
disclosure
to learn more.
The Graze kitchen faucet collection from Kohler is a show stopper from the inside out! At first glance, your eyes are drawn in with a high arching spout, clean lines, and soft curves that lead to a minimalist-style square base. Upon further review, you soon realize those details are just the tip of the iceberg when it comes to this collection's features!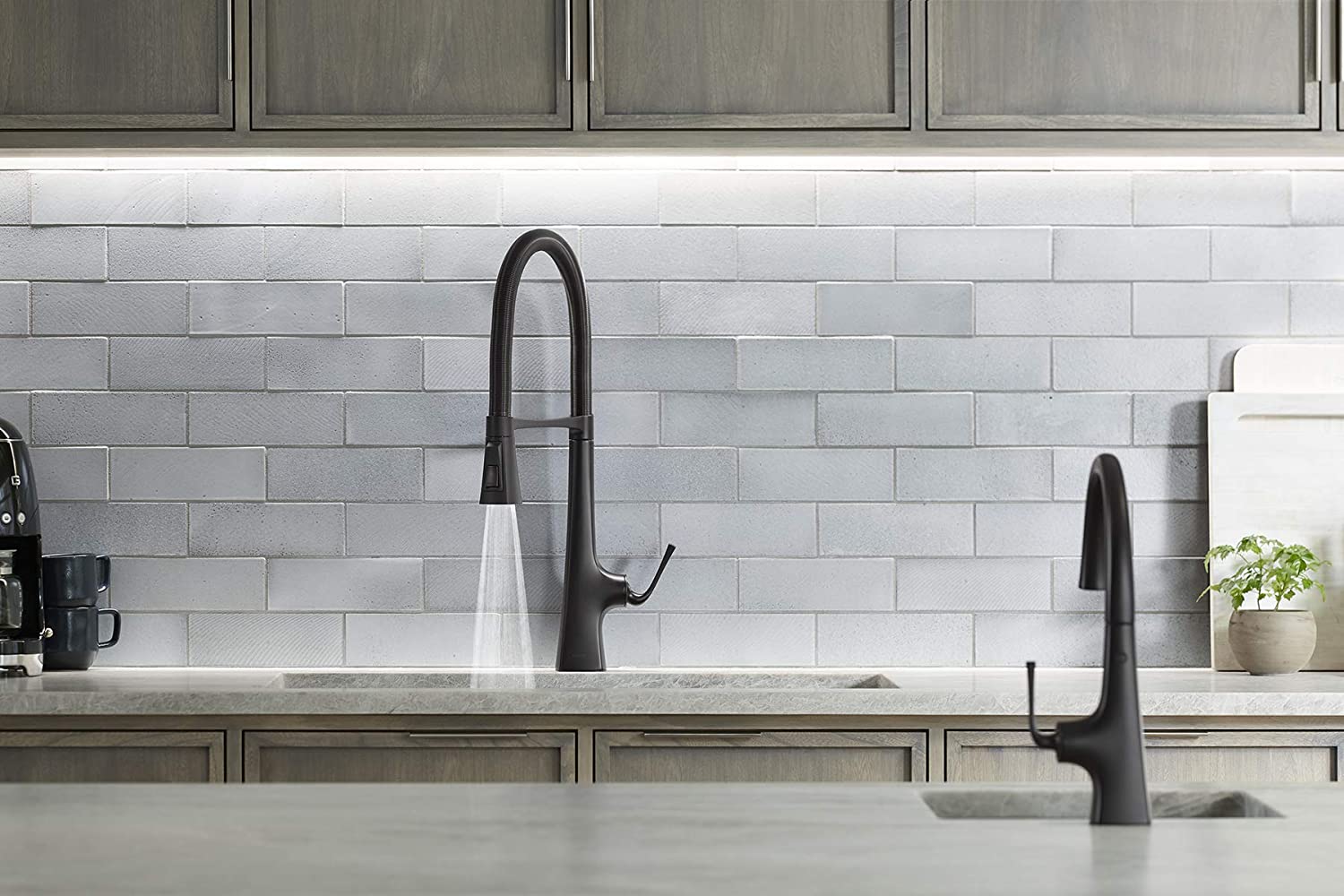 MY TOP PICKS FROM THE GRAZE KITCHEN FAUCET COLLECTION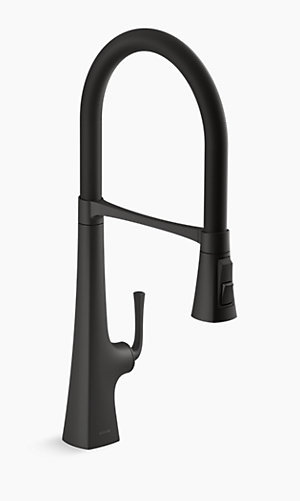 Graze™ Semi-Professional Kitchen Sink Faucet with 24-5/16″ Spout
This kitchen sink faucet features a 24-inch high arch, making it easy to clean large cookware. It also has a pull-down, touch control swing spout that rotates 360 degrees. The spray head includes 3 different spraying options, ranging from light to powerful, to easily accommodate different washing needs. The faucet can even turn off and on to a temperature set at the prior usage. A magnetic docking system keeps the spout securely in place when it is not in use.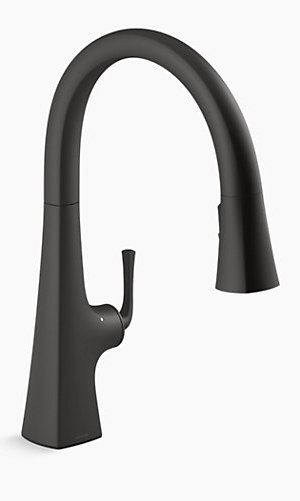 Graze™ Kitchen Sink Faucet with KOHLER® Konnect™ and Voice-Activated Technology
This kitchen sink features voice-activated technology that pairs with Amazon Alexa, Google Home, and Apple Home Kit. The hands-free option allows you to turn the faucet on and off as well as pour specific amounts with a simple voice command. Touchless options are taken a step further as you can also turn it off and on with a wave of your hand. It includes a pull-down spray with the 3 spray feature.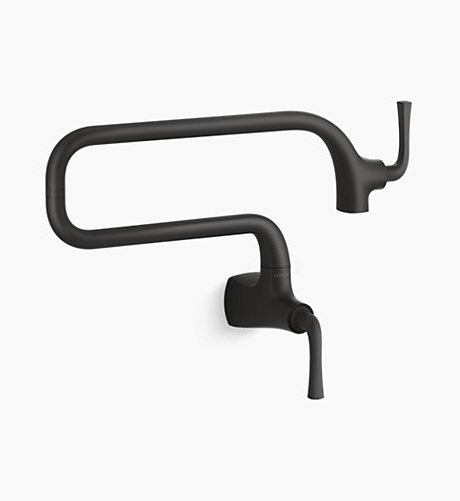 Graze™ Wall-Mount Pot Filler Faucet
The wall-mounted pot filler features a water spout that rotates 360 degrees for optimal range when filling pots.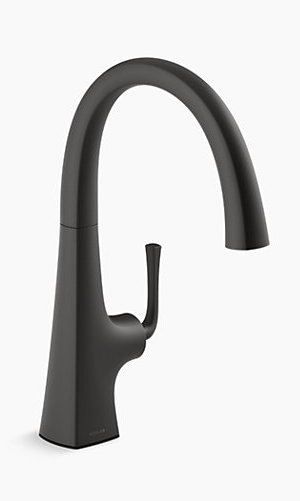 Graze™Bar Sink Faucet with Swing Spout
The bar sink faucet is smaller in scale while still featuring a high arch swing spout that rotates 360 degrees.
GRAZE KITCHEN FAUCET COLLECTION FINISHES
Matte black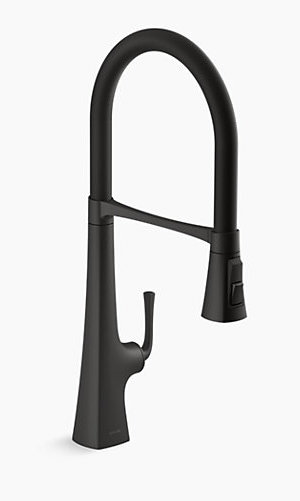 polished chrome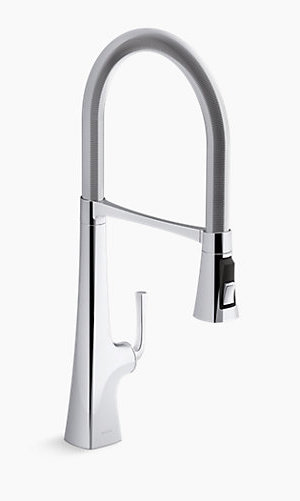 Brilliant stainless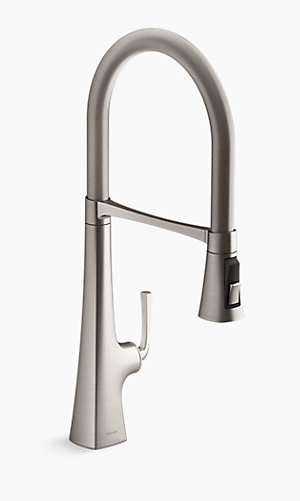 The Konnect app from Kohler provides you the convenience of monitoring your water usage and quality from your smartphone, transforming your kitchen into a smart home.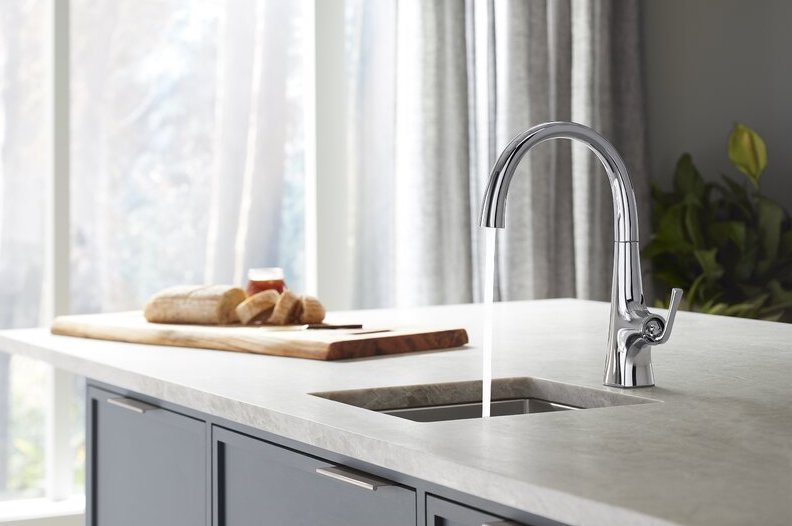 Kohler is committed to a healthier way of life with filtered drinking water straight from your kitchen faucet.